Nowadays all most all browsers have anti malware and anti phishing enabled by default. so once a website is blacklisted by google , users will see the page below so in this post we will explain about Deceptive site ahead error.
most pages that are infected are none hackers basically normal users who have website that is not secure enough or has a bug. hackers can infect these sites by many ways like:
infecting PHP & HTML of a website
redirecting users to ither web pages that are mostly designed for phishing or infecting user's computer
uploading .swf to website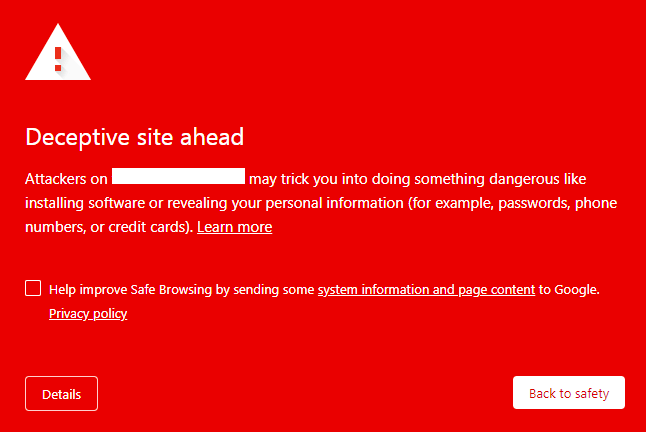 Deceptive site ahead is caused for three reasons:
site is affected by malwares
site is suspicious to have bad programs
site is trying to load infected code to user from an unauthorized source
but what is a malware ?
malware is a malicious program that is written to gain access or damage a system without the owner awarness. worms and trojans are in this category of bad softwares.
but how do we know if our website is infected?
there are so many ways to find out your website is infected but the best and easiest way is to use google search console for that matter . to do so follow the path and if the page shows warnings like the image below then you know it's time to do some serous damage control 🙂
set up  -> security & manual actions -> security issues

how to solve deceptive site ahead error?
now once we figured our website is infected there are a couple of things we can do, hopefully these steps solves the problem but there are so many cases that an injected code is beyond these protections and preventions and require a professional help.
note: during the trouble shoot it is recommended to bring your website down so it wouldn't affect your domain google ranking.
most hostings like avanet have anti malwares installed on server so if a website is infected the first step is to analyze it on server
add your site to google search console as google crawlers are best in finding and solving threads across Internet
so many users are not aware that their own systems can be the reason their site is infected. any computer that works and connects to host and codes should be scanned for viruses.
restoring a backup is never a solution once a site is hacked it means there is a problem in the code that needs to be resolved bringing the site up to a point in time when the incident did not happen does not solve that technical problem and the hacker can easily bring your site down.
Click in Request Review and send request to solve problem by google .
keep in mind that most of these sites are made by CMS like wordpress and there are so many suggestions available to avoid these attacks for these sites to follow.